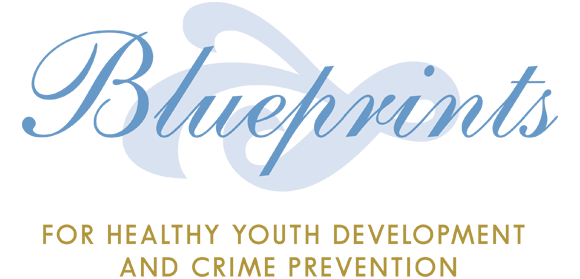 Blueprints for Healthy Youth Development uses rigorous criteria to review all articles/reports that contain evaluation information for a given intervention. The only requirement is that the study describes an intervention that has a treatment and control group (meaning some participants receive the intervention and others do not). We do not review case studies, cost analysis studies, or feasibility studies, and we do not currently review programs specifically intended as treatment for diagnosed or clinical level mental health problems.
Send all evaluation articles/papers to:
Blueprints Review
University of Colorado Boulder
Institute of Behavioral Science
483 UCB
Boulder, CO 80309
blueprints@colorado.edu
Important reminders:
Please do not send implementation manuals.
Allow up to 6 months for the internal review by Blueprints staff.
You will be notified by mail or email when the internal review is completed and whether or not the program will be submitted to the advisory board for a final review.
Steps in the review process:
Interventions enter the review process in two manners:
(1) nominations from someone associated with the intervention;
(2) ongoing searches of the literature on the Blueprints outcomes of interest.
1. Write-ups are completed by Blueprints staff detailing the program methodology and outcomes from studies, as well as numerous other factors.
2. Write-ups are reviewed and edited by two senior Blueprints staff.
3. A determination is made as to whether a program might qualify as model or promising.
4. If a nominated program does not meet Blueprints criteria, the person who submitted the program will be notified within 6 months as to the reasons for non-acceptance. 
5. If the program has a potential of meeting the Blueprints criteria, it will be submitted to the Blueprints advisory board, who meet twice a year, for a final review and decision.
6. A letter notifying the program designer of the final decision and reasons for that decision will be sent immediately after the board meeting.
7. In some cases, the advisory board may ask the program designer/evaluator for additional information or analysis that will help make the case for acceptance. Once that information is obtained, the program will be re-reviewed by the advisory board. Final notification of the determination will be sent to the program designer/evaluator.